25 July 2023
Posted by:

Press

Categories: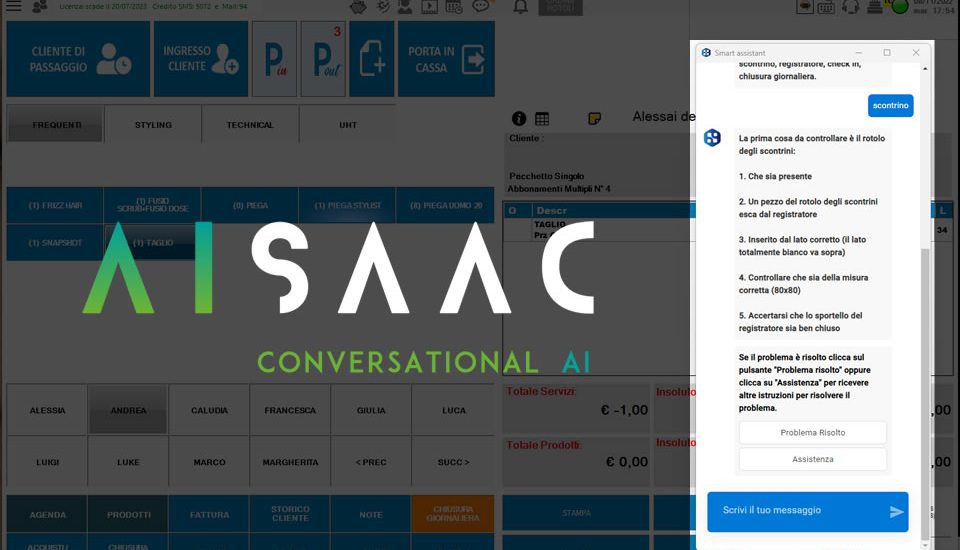 Chatbot in a software
Is AISAAC integrated into the Windows Desktop xTouch software?
Yes, you are reading correctly, we have integrated our Conversational Digital Assistant AISAAC even in a closed environment like a Windows Desktop software. Not only an evolution of the classic hypertext HELP but the concrete help a advanced Digital Assistant with Artificial Intelligence can give. A unique Customer Service experience for customers and a solution that allows to collect and display requests in real–time and always be present for your customers.
THE CASE: Providing customer support to Coiffeur/Beauty/SPA salon operators for the xTouch software
THE PROBLEM: Operating hours, the company had to make available every day from 9:00 to 22:30 plus operators and technicians able to answer questions of various kinds, from how to use the software to blocking a fiscal printer.
THE SOLUTION: We set up and installed a Conversational Artificial Intelligence Digital Assistant that answers every day 24/h and that collects and organizes requests in structured data. This last point allowed to better identify the problems by improving the support and software usage experience as well as leading to a considerable economic saving for the company that allowed it to reorganize and redirect the resources previously committed to the support service to other activities.
THE FUTURE: The company is finishing the development of a Cloud version of its desktop software, where the installation of a new Digital Assistant is already planned.